Report: Daronte' Jones leaving Wisconsin for Miami Dolphins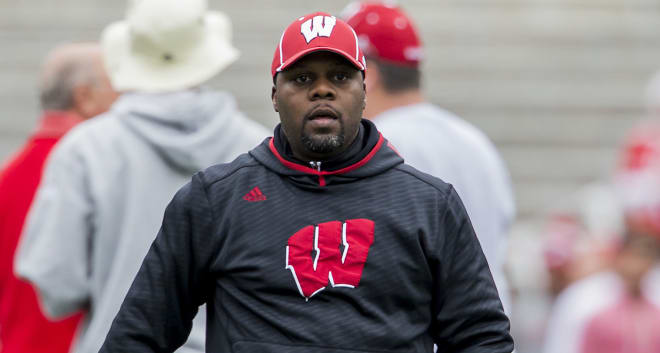 Wisconsin defensive backs coach Daronte' Jones is off to the NFL, according to a report
MADISON, Wis. - Another National Signing Day is in the books, which means the college coaching carousel has begun to spin once again for the Wisconsin Badgers.
According to a report by ESPN's Adam Caplan, Wisconsin defensive backs coach Daronte' Jones has been hired by the Miami Dolphins to be the team's assistant defensive backs coach.
#Dolphins are adding Wisconsin DBs coach Daronte Jones as asst DBs coach, source said.

— Adam Caplan (@caplannfl) February 9, 2016
Jones spent the last year in Madison after working at Hawaii as the team's defensive backs coach from 2012 to 2014, and also worked for the CFL's Montreal Alouettes in 2011.
Jones helped coach Wisconsin's secondary to a strong season in 2015, when UW's defense finished No. 7 in the nation in pass defense, allowing just 173.2 passing yards per game.
During his year with the Badgers Jones served as the team's lead recruiter on the east coast. Jones was instrumental in helping the Badgers sign safeties Eric Burrell, Seth Currens, and Patrick Johnson, as well as cornerbacks Dontye Carriere-Williams, Ke'Shan Pennamon, and Caesar Williams.
The Badgers will now have to fill their second coaching vacancy of the offseason, after former defensive coordinator Dave Aranda left for the same position at LSU a few days after Wisconsin's 23-21 win over USC in the Holiday Bowl on Dec. 30.
Head coach Paul Chryst hired former USC defensive coordinator Justin Wilcox to fill the position on Jan. 28, and now Wilcox will get a chance to help bring in another assistant coach to his new team.
--
John Veldhuis covers Wisconsin football, basketball and recruiting for BadgerBlitz.com on the Rivals.com network. Follow him on Twitter at @JohnVeldhuis.